i like wilson kipsang.
by all accounts that i've read and seen he is a genuinely nice guy who is proud of his heritage, his country and who gives back to the running community.
now, he is (deservedly) the new holder of the marathon world record.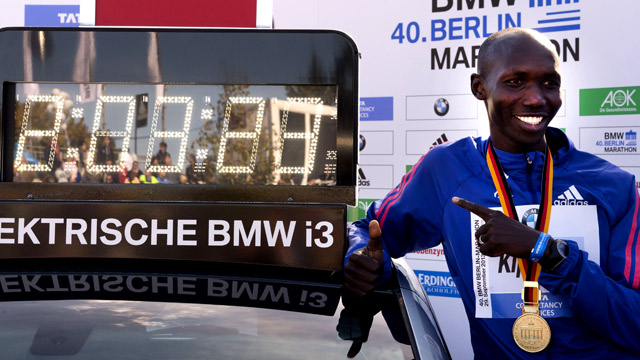 gotta respect him for that.
since his record-smashing run this past sunday in berlin, all sorts of interesting things have hit the interweb world. some of them i believe are worth sharing, like the breakdown of his race into meaningful statistics. i also like this little comparison chart - "how long could you keep up with the new marathon world record holder?" sure, these are bits of trivia, but they remind us of just how tremendous is his accomplishment of covering 42.195 km in 2h 03m 23s.
this is also interesting - while not raining on kipsang's parade (unlike the reprehensible idiot who hopped the barricade to cross the line just ahead of wilson) this article wants us not to forget that just a couple of years ago the same distance was traversed over twenty seconds faster that the standing world record. geoffrey mutai's running of the 115th boston marathon absolutely stunned the marathoning world. i like geoffrey mutai even a little bit more than wilson kipsang, and so have got to give him his props - even if the powers that be will not recognize his equally astonishing feat.
not to be overshadowed by all of this, as a masters-category runner (of nowhere near competitive quality) i definitely want to acknowledge that this season has been remarkable for at least two other records that have fallen.
the fact that we are getting faster across the spectrum is giving me hope that i can run faster.