i don't think that i've ever been so happy for a less-than-PB race time.
as a proud member of the Barrie Running Ninjas (led by our sensei and MEC envoy jim willett) i was eager to participate in and support the first community MEC race of this season. our intrepid little tribe normally meets up every saturday morning at 9am for a 10k (or so) jaunt around the city, so showing up for a race at the same time that we would normally otherwise be gathering was no biggie. it was great to have rick, lewis, mark, sarah, samantha, and trevor coming out to represent the dojo in both the 5k and 10k.
i'd had this race marked on the calendar but not as a target race - i'm still focusing my efforts on the waterloo marathon in three weeks' time. so what's a marathoner in training to do when a 10k race is conflicting with a scheduled long run day?
easy.
incorporate it as a fast-finish to your planned 26k workout.

pre-race
this was a hotly anticipated event for our local MEC store in part due to the fact that they had managed to 'qualify' for chip timing this year as a result of last year's race series success. while MEC has always put forward great races (check out some of my previous race reports here, here and here)
this would be a huge bonus feature - in my estimation, chip timing almost sells itself in terms of attracting registrants. this would definitely be a boost to the already growing interest and level of competition at the MEC barrie race series.

normally registration and kit pick-up is a breeze - and to a certain extent it was again. the one variable that played into it this time around was the fact that the race would take place on easter weekend, and that meant that the day before the race was good friday - a stat holiday. MEC wouldn't be open, and so any pick-ups had to be on the wed-thurs prior to race day or one race day itself. it was also a two-stage process as the timing chips (provided by Speed River Timing) would not be available until the morning of race day. again, not a real inconvenience, but something that had to be factored into the pre-race plans.
race day
i arrived approximately two hours before the scheduled 9am start time in order to get in an easy 16-18k before the starter's horn would sound. i knew that i'd have to pause to get chipped up, and i planned for at least one bathroom break during the early miles. the first stretch of running would and did afford me the opportunity to scout out conditions all along the course route and they were notably varied ... with a windchill of about -9°C but clear sunny skies there were sections where i was overdressed for the conditions and other sections where i was thankful to have come as prepared as i did.
passing by the start/finish area several times i was greatly encouraged by the groups of runners amassing at the registration/kit pick-up/chip pick-up tents. i was certain that this would turn out to be an excellent day for MEC and for the local running community.
i tried to time the conclusion of my easy run workout portion with the projected 9am start, but i could hear the race marshal announcing that the start would be slightly delayed in order to accommodate 10k runners who were still waiting in the porta-potty lineups. apparently three porta-potties and the other nearby facilities were not processing people fast enough.
as the race finally got started, i found myself at the back of the pack - quite deliberately. my aim was to finish with a tempo-ish run, so trying to bump out the 10k at about goal race pace (4:24/km). but between the log jam on the narrow bayside trail and the runners who were more interested in conversing than picking up the pace i wound up weaving a bit to get into the clear (i know, it chews up energy and is the wrong way to start a race - but consider the fact that i was well into my 19th kilometre of the morning by this point).
miles 1-3: 20:08
i kept telling myself that i was trying to just hit "race pace" (my mental mantra), and i was monitoring the level of my breathing to make sure that i wasn't overcooking it. but after i heard the first mile beep on my garmin and checked the elapsed time i noticed that i was clipping around a 4:12/km which was faster than i had counted on. but i was convinced that the 'feel' of that first mile was what i was after, and i managed to cue in on a few runners that were still ahead of me and carrying out a steady effort. by the end of the third mile i found that i'd passed these runners and could only see one guy about 300m ahead of me, effectively leaving me running alone in the heart of the race.
miles 4-6: 20:08
how's that for an even effort? that's exactly how it felt too - even though we'd now turned a bit into the wind. after the fifth mile i caught and passed that guy (found out later his name was rob) who was 300m ahead and then tried to steamroll my way through the final mile - opening up my hands and bumping up the cadence for the homestretch. by this time i'd caught up to a bunch of the 5k runners who'd started 10 min. after the 10k horn and did not cover the first three-mile out-and-back - so there was a bit of "on your left" going on, though not quite in captain america style.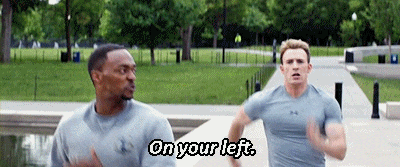 last 390m: 1:31
what a tease - just as you come into sight of the start/finish line you have to run past it, loop around the back and cross over the mats from the other side of a parking lot. and in this twisty finale one of the guys whom i'd passed during the third mile (having assessed at the time that he was probably pacing his heavier-set but still very capable buddy) turned on the afterburners and blew past me to finish eight seconds ahead.
post-race
even before checking my splits i'd a good sense that i finished in the 42 min. ballpark with an even effort the entire way - and i was super-pumped about that. a nice fast-finish long run which left me spent in the finisher's chute but with the knowledge that i'd sustained a strong kick for the last 10k. i was going to check the posted chip-time results but the crowd around the board was a bit too thick, and the wind a bit too biting once we all stopped working up a sweat. i'd find out later online that unofficially i'd placed first in my age-group.
checking in with the other ninjas, the update was that mark and trevor posted top-10 finishes in the 5k, rick managed a top-15 spot while still recovering from strep throat (although his account was that it was a 'brutal' result), lewis snagged a strong top-25 finish, sarah hit a new 5k PB and samantha rocked a fast time and the funkiest running tights around!
l-r: jim, trevor, moi, rick, sweet lew, sarah, mark (samantha had to jet for home)
what else can i say - i'm feeling really good about today's long run workout as an indicator of how i'm going to feel in the latter stages of the marathon later this month. it's exactly what i'd hoped for, and it was a great day to share it with my amazing training partners and friends.

if you've never hit up a MEC race before, get in on the next one(s) in your region!
race gear for today: